You always see advertisements online prompting you to sell blu-ray's, CD's, video games, books and more. Out of all the options, how do you know which site is the best to sell blu-rays or other used items?
Customer Satisfaction
At EagleSaver.com we are committed to providing excellent customer service. We want the process of selling used items to be quick and hassle-free. Why choose our buyback program for your resell needs?
Proven Customer Satisfaction
Our reviews validate our claims to be the best buyback program offered online. We strive for satisfaction with every purchase made on our website.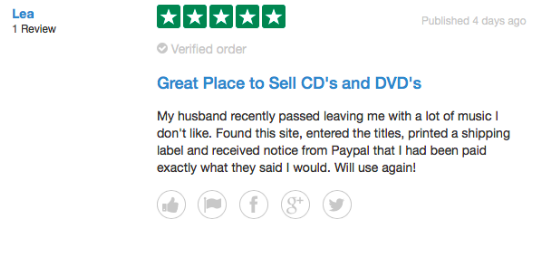 Our process is simple and straight-forward. We want to compensate you for your used items. Gather your items and make easy money in no time.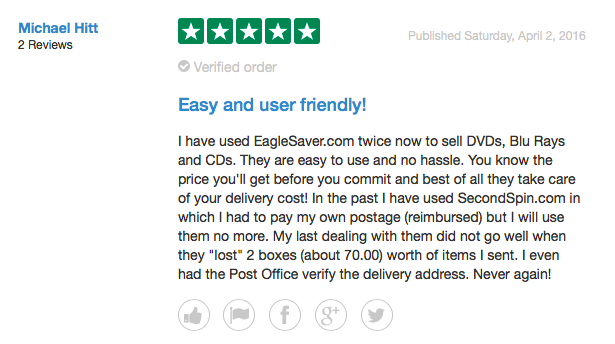 Compared to other companies, we are dedicated to customer satisfaction. Our customer testimonials serve as the evidence of our thriving buyback program and simplistic process.
Visit EagleSaver.com to get started with a free quote. Gather your item(s) and input the requested codes (UPC or ISBN) in our quote generator. The quote generator can be found on our homepage. You can even input items in bulk to expedite the process!
After receiving your free quote, you will receive a prepaid shipping label from us. (Your quote remains valid for 5 days)
Once you print off your shipping label, you can ship your items directly to EagleSaver.com and wait to earn cash! Please allow up to 24 hours after receiving items for payment to be processed. We will issue your payment via check or PayPal, depending on your preference.
Rid yourself of the unnecessary clutter and items. Sell them to EagleSaver.com and see how you can make fast cash! Trust us, you'll be glad you did.